We are a Catholic Community where Christ's love and forgiveness is at the centre of all that we say and do.
We recognise that we are not perfect, and like any family, there will be disagreements and occasionally conflict amongst us, but we will always try to resolve our problems.
Remembering that God is never in unkindness, never in harsh words, whether written or spoken, but always in love and forgiveness.
We rejoice in the great diversity of our community and the richness that diversity brings to our Church life.  Above all we strive to make everybody welcome and seek to respond to the challenges of our Christian faith together as sisters and brothers in Christ, supporting each other in times of adversity and celebrating together in times of joy, always relying on God's love and mercy.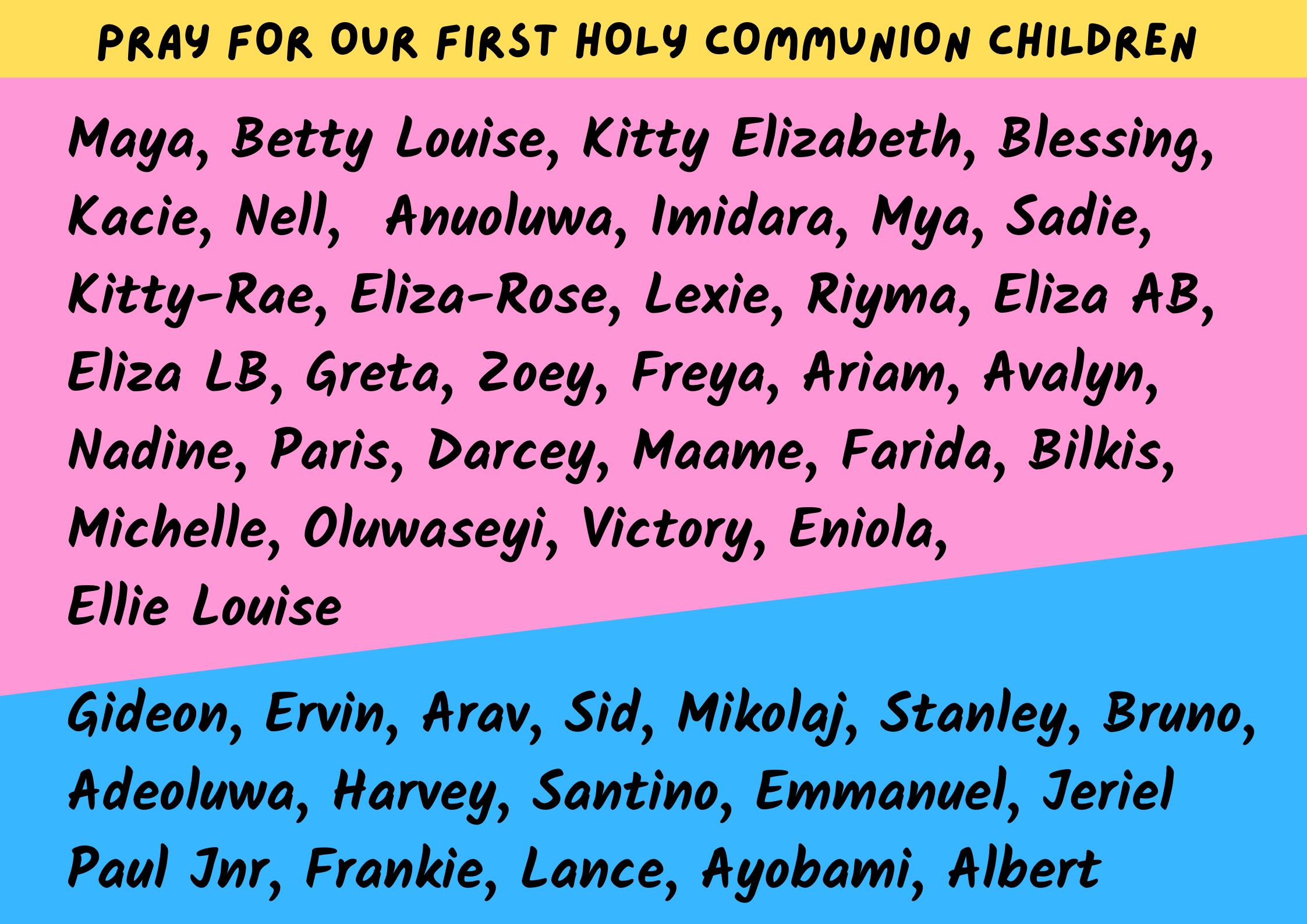 First Holy Communion Celebration 2022
Pray for our First Holy Communion Children.
This year we have 49 Children making their First Holy Communion on Saturday, 21st May 2022 and on Saturday, 28th May 2022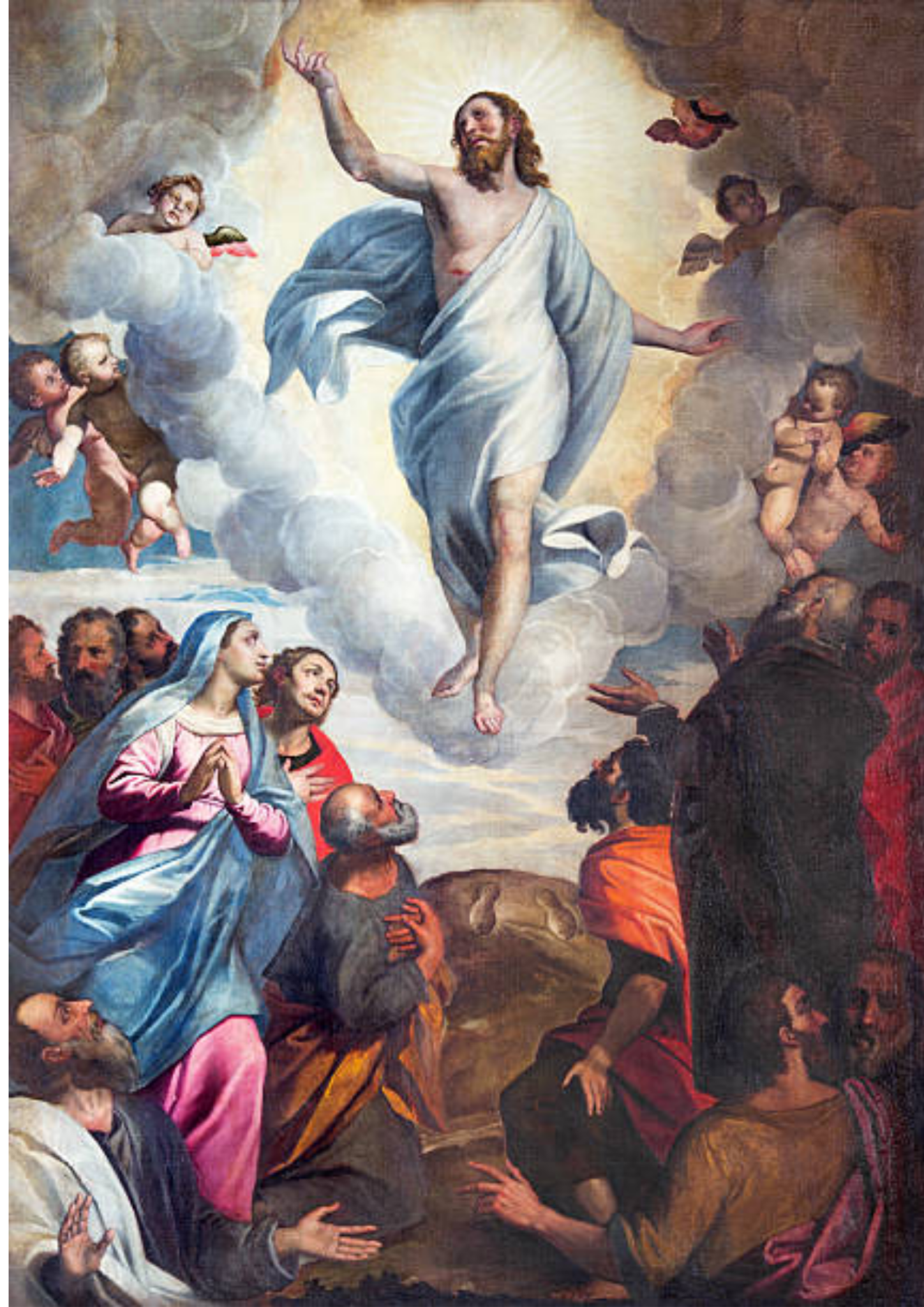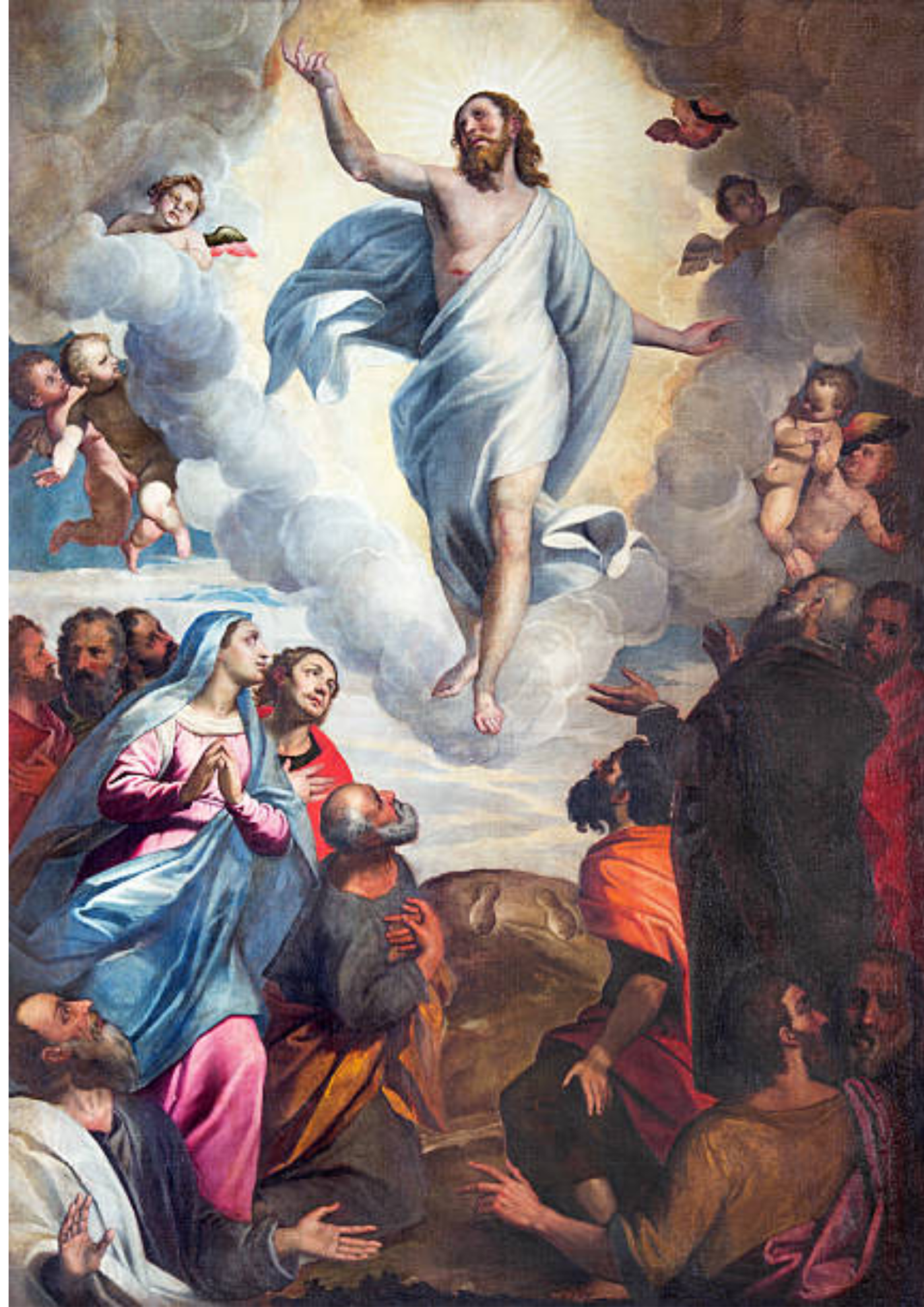 Feast of the Ascension of Jesus Christ
For 40 days after his resurrection on Easter Sunday, the Bible says that Jesus travelled and preached with his apostles, preparing them for his departure from Earth.
The Feast of the Ascension, celebrates when Jesus ascended to heaven before his disciples, at the village of Bethany, near Jerusalem.
The ascension is an important Christian feast attesting and celebrating the reality of the God-Man Jesus Christ's returning to the Father, to return again in the future parousia. The Ascension is the final component of the paschal mystery, which consists also of Jesus' Passion, Crucifixion, Death, Burial, Descent Among the Dead, and Resurrection.
This feast day is one of the ecumenical feasts of Christian churches, along with the celebrations of the Passion, Easter, and Pentecost.
This year Ascension Day is on Thursday, 26 May 2022.  There is Mass at 9.15am and Mass at 7.30pm.
Mass Times

Saturday   6.00 pm
Sunday    9.00 am
Sunday     11.00 am
Tuesday   7.30 pm
Wednesday 9.15 am
Thursday 9.15 am
Friday      9.15 am
Divine Mercy Sunday 2022
In a series of revelations to St. Maria Faustina Kowalska in the 1930s, our Lord called for a special feast day to be celebrated on the Sunday after Easter.  Today, we know that feast as Divine Mercy Sunday, named by Pope St. John Paul II at the canonization of St. Faustina on 30th April 2000.
Divine Mercy Sunday 2022
The Lord expressed His will with regard to this feast in His very first revelation to St. Faustina. The most comprehensive revelation can be found in her Diary entry 699:
My daughter, tell the whole world about My inconceivable mercy. I desire that the Feast of Mercy be a refuge and a shelter for all souls, and especially for poor sinners. On that day the very depths of My tender mercy are open. I pour out a whole ocean of graces upon those souls who approach the fount of My mercy. The soul that will go to Confession and receive Holy Communion shall obtain complete forgiveness of sins and punishment.
On that day are opened all the divine floodgates through which graces flow. Let no soul fear to draw near to Me, even though its sins be as scarlet. My mercy is so great that no mind, be it of man or of angel, will be able to fathom it throughout all eternity. Everything that exists has come from the very depths of My most tender mercy. Every soul in its relation to Me will contemplate My love and mercy throughout eternity. The Feast of Mercy emerged from My very depths of tenderness. It is My desire that it be solemnly celebrated on the first Sunday after Easter. Mankind will not have peace until it turns to the Fount of My mercy.
Divine Mercy Sunday is 24th April 2022
You can read more about Divine Mercy HERE.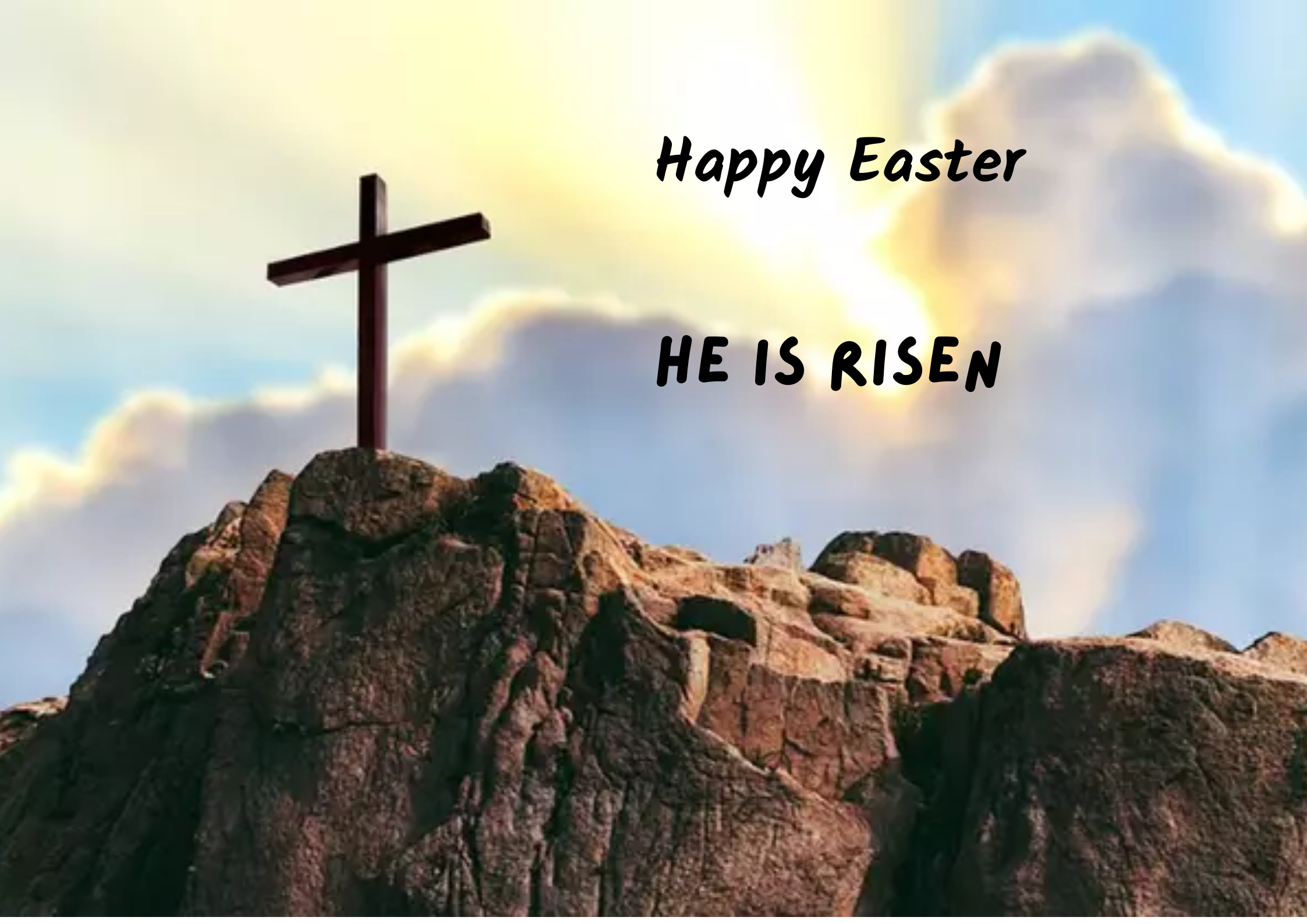 Easter Sunday 2022
Easter, the Pascha, is the Principal Festival of the Christian Church, which celebrates the Resurrection of Jesus Christ on the third day after his Crucifixion, fulfilling the Messiah prophecy foretold in the Old Testament (Isaiah 53)
The Paschal Candle used during the Easter Vigil is a central symbol of this divine light, which is Christ. It is kept near the ambo throughout Easter Time and lit for all liturgical celebrations.
Your can read Pope Francis' Urbi et Orbi blessing 2022 HERE
 You can read Pope Francis' Easter Vigil 2022 Homily HERE 
You can read Archbishops John Smiths' Easter Vigil 2022 Homily HERE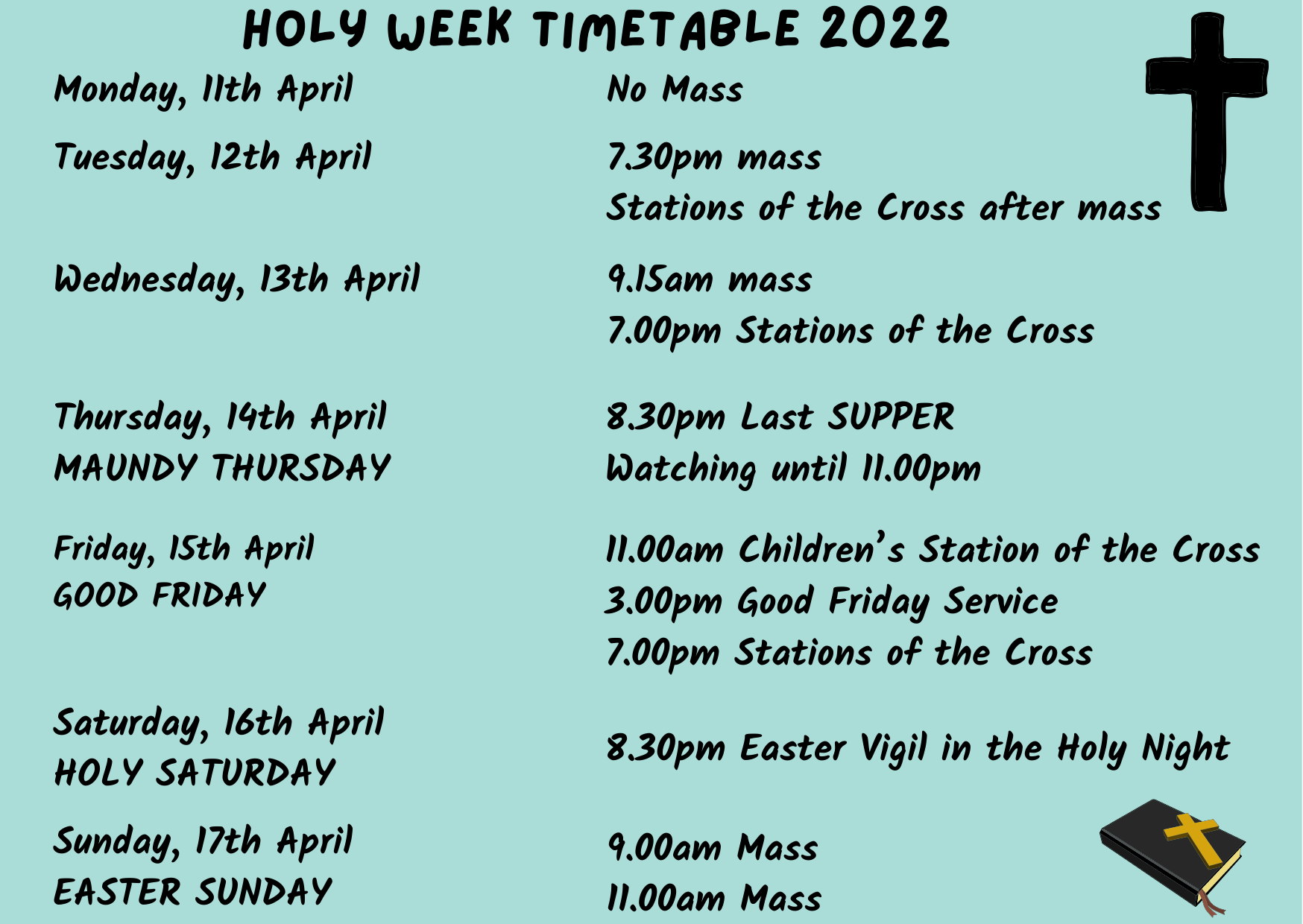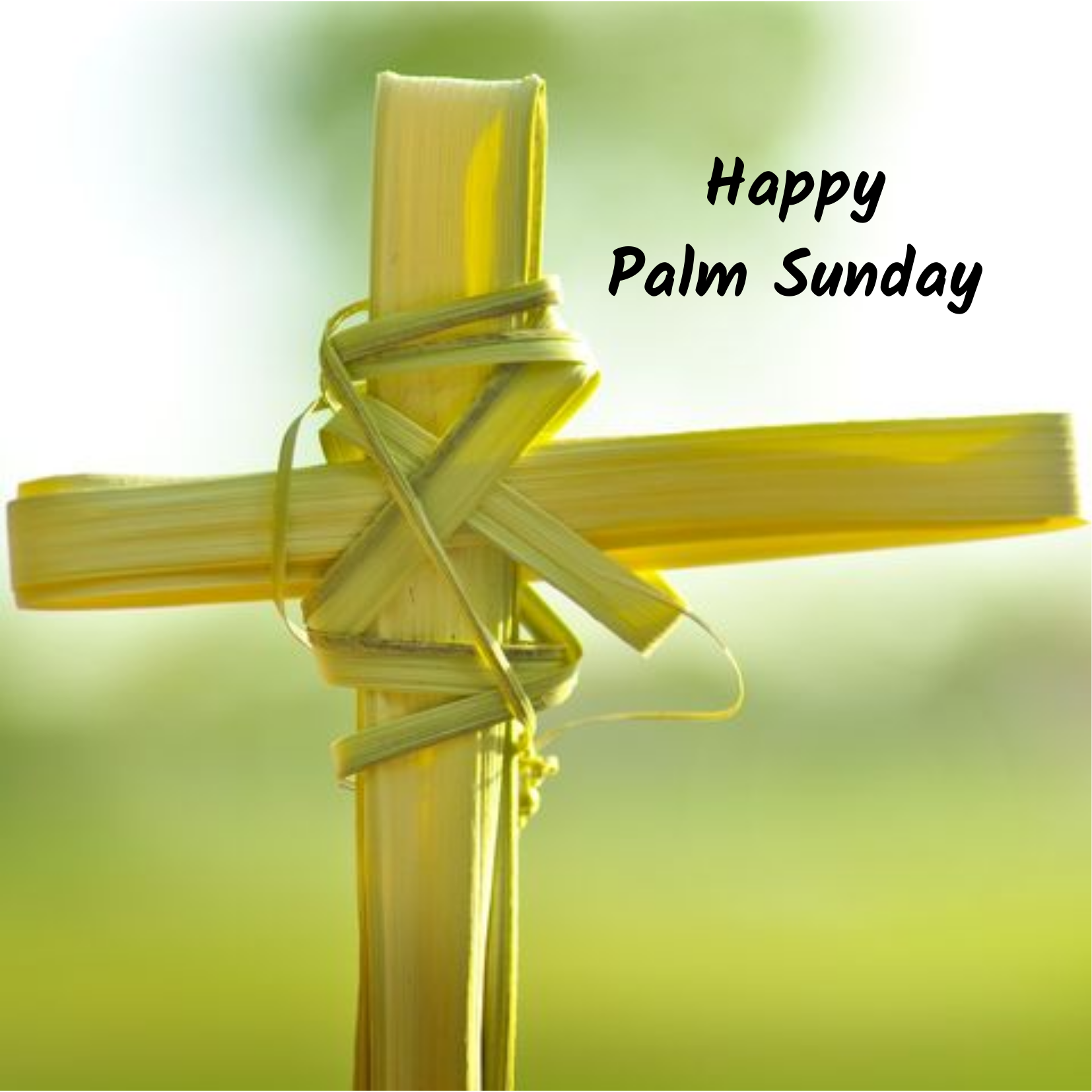 Palm Sunday 2022
Palm Sunday, or Passion Sunday is the final Sunday of Lent, the beginning of Holy Week.
A week later, Christ will rise from the dead on the first day of Easter.
The first name comes from the fact that it commemorates Jesus' triumphal entry into Jerusalem, when the crowd had palm branches (John 12:13).
The second name comes from the fact that the narrative of the Passion is read on this Sunday (it otherwise wouldn't be read on a Sunday, since the next Sunday is about th
The Liturgical colours of the Palm Sunday Mass are red and white, symbolising the redemption in blood that Christ paid for the world.
Palm Sunday is on 10th April 2022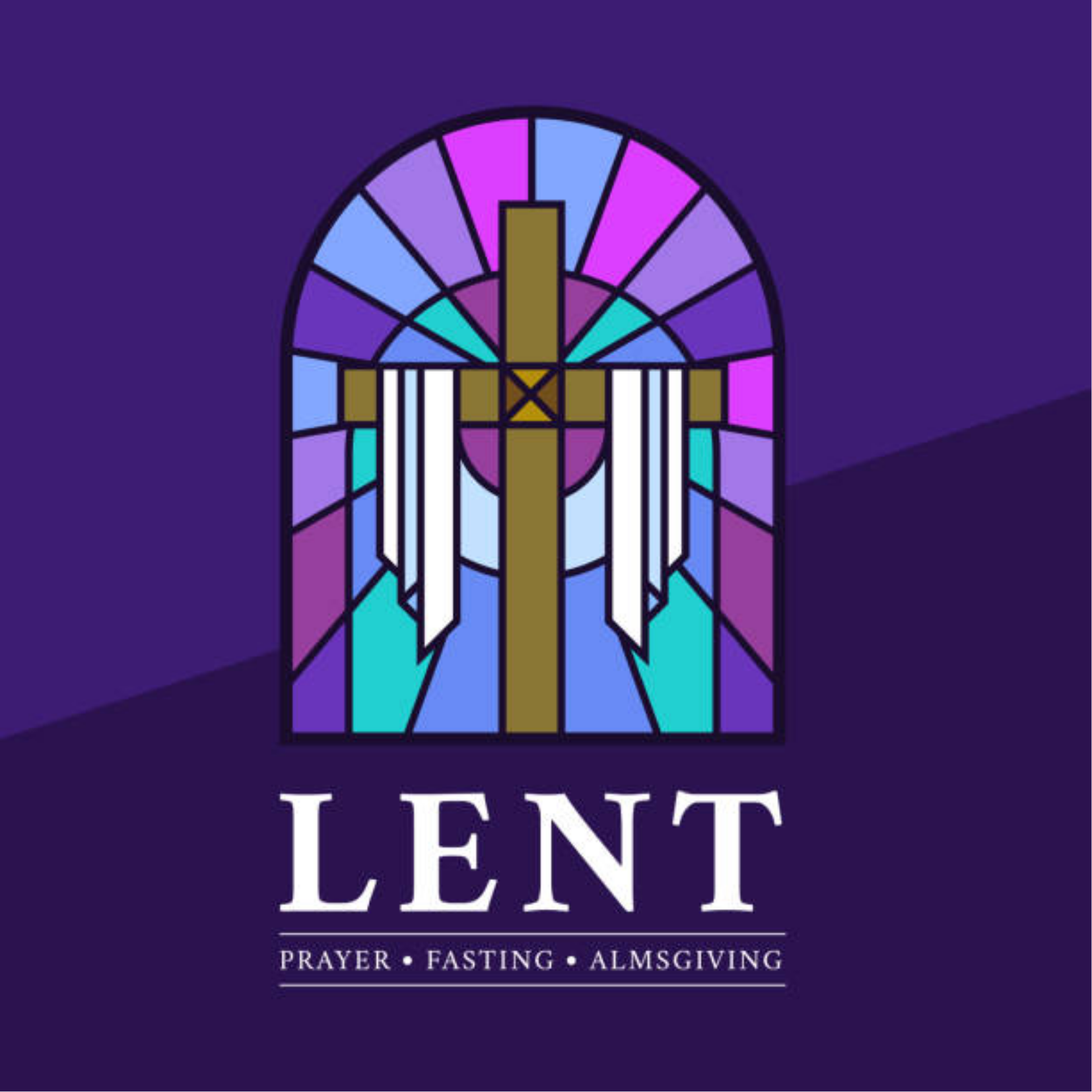 Lent 2022
The season of Lent is a Catholic liturgical season consisting of 40 days of Prayer, Fasting and Almsgiving beginning at Ash Wednesday and concluding at sundown on Holy Thursday.
It is a period of preparation to celebrate the Lord's Resurrection at Easter. During Lent, we seek the Lord in prayer by reading Sacred Scripture; we serve by giving alms and we practice self-control through fasting. We are also called to a true inner conversion of heart as we seek to follow Christ's will more faithfully.
This year Ash Wednesday is on 2 March 2022.
There will be mass at 9.15am and 7.30pm on the day.
There will be Stations of the Cross every Friday during Lent at 7.00pm.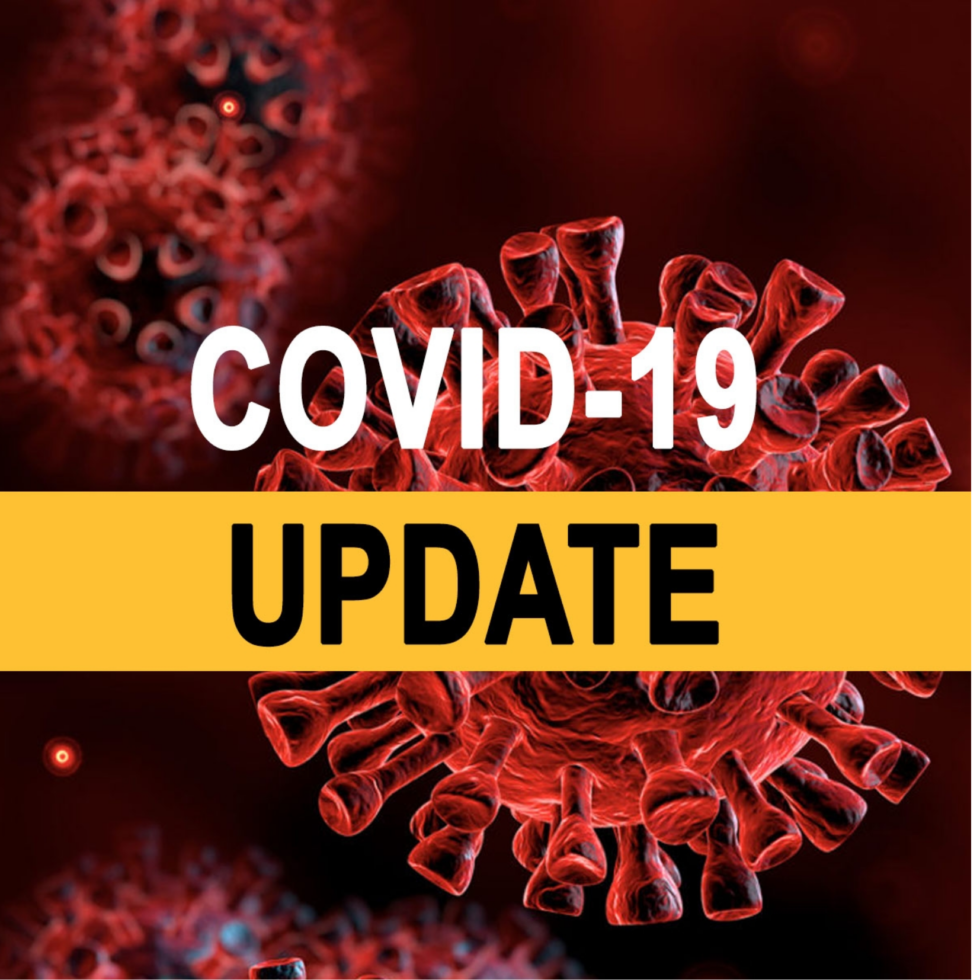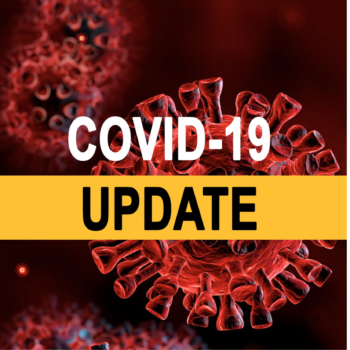 Catholic Bishops' Conference of England and Wales - January 2022
Guidance for Churches 
Following the announcement by HM Government on 19th January 2022 that the measures put in place to mitigate against covid virus transmission as "Plan B" will be lifted in full on 27th January, the following guidance is offered to the dioceses of England and Wales. The material in this briefing has been agreed with Public Health officials and follows the regulations for England and concur with the regulations in place for Wales which take effect on 28th January 2022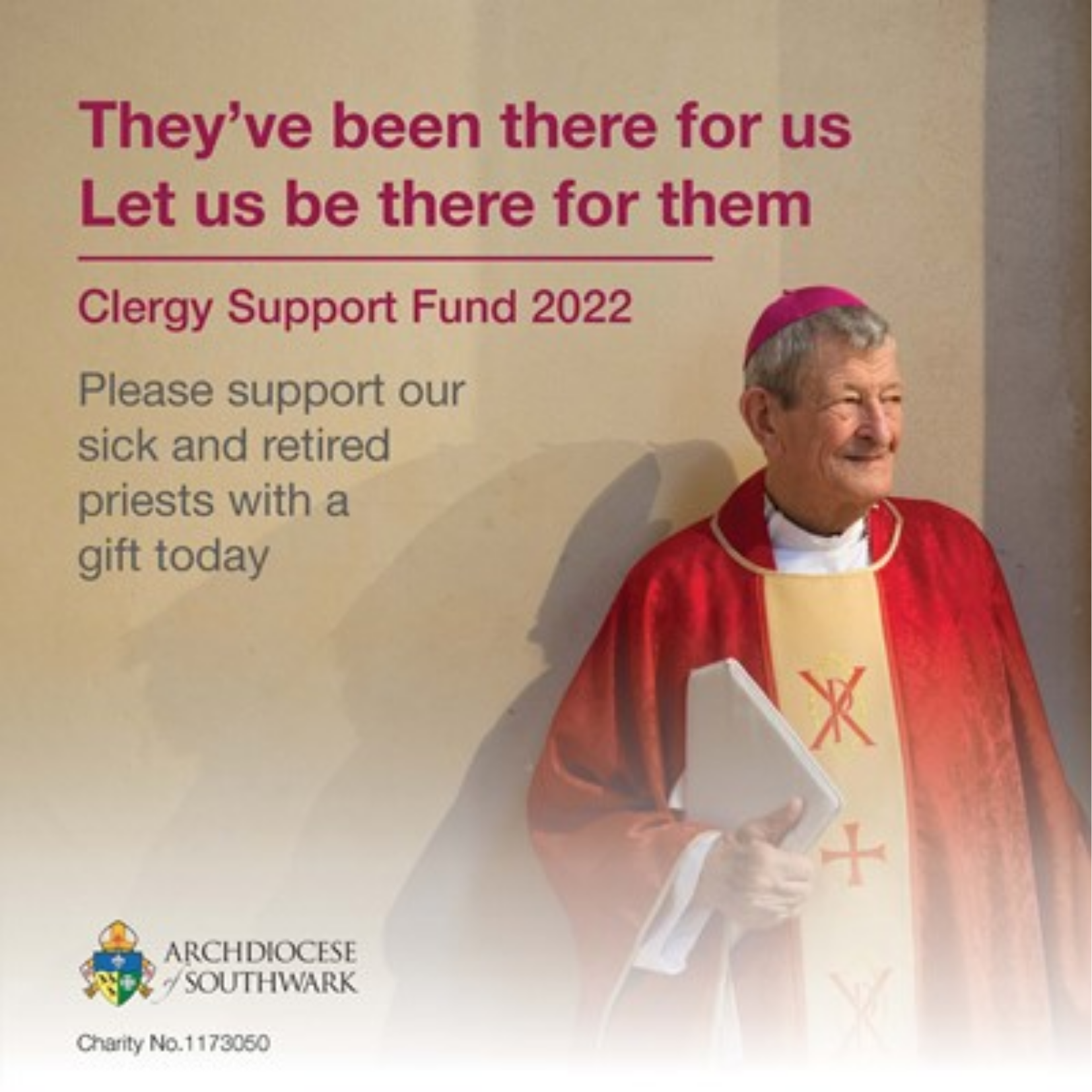 Clergy Support Fund 2022
On Sunday 27th February 2022, all Parishes in the Archdiocese of Southwark will hold a Second Collection for the welfare of our sick and retired clergy, and would like to ask for your generous support.
The Clergy Support Fund of the Archdiocese of Southwark provides care for priests in their old age and retirement, and in their time of ill health. A gift to this worthy fund will ensure a dignified retirement for our priests, after they have dedicated a lifetime of service to Christ, His Church and His People.
In 2021, the Clergy Support Fund provided care to 71 retired priests, at a cost of £1.25 million. With the number of priests over the age of 65 steadily increasing, so too will the financial obligation to the Archdiocese.
Next weekend there will be a second collection for this. There are special envelopes to be used. Please take one today and return next weekend.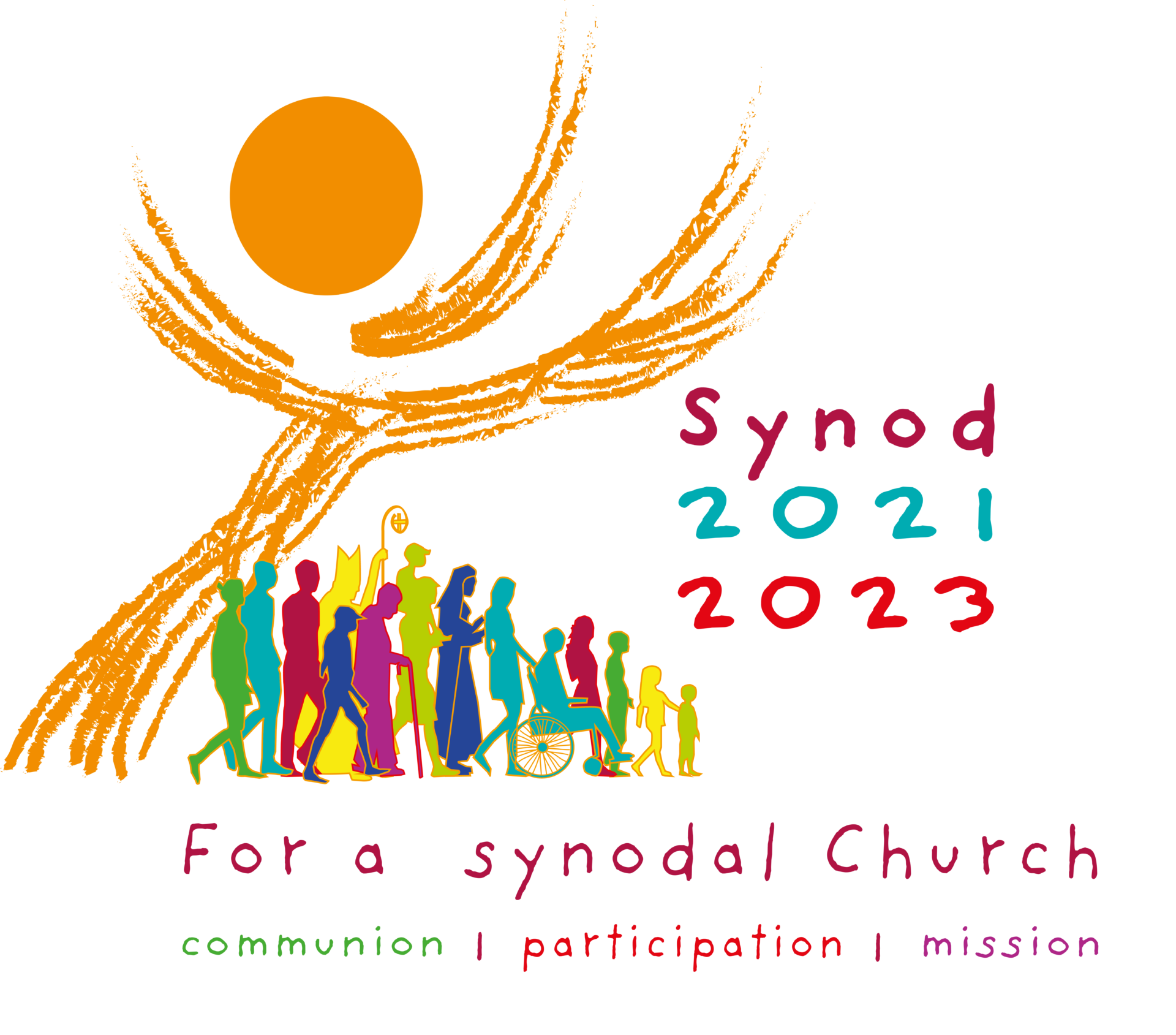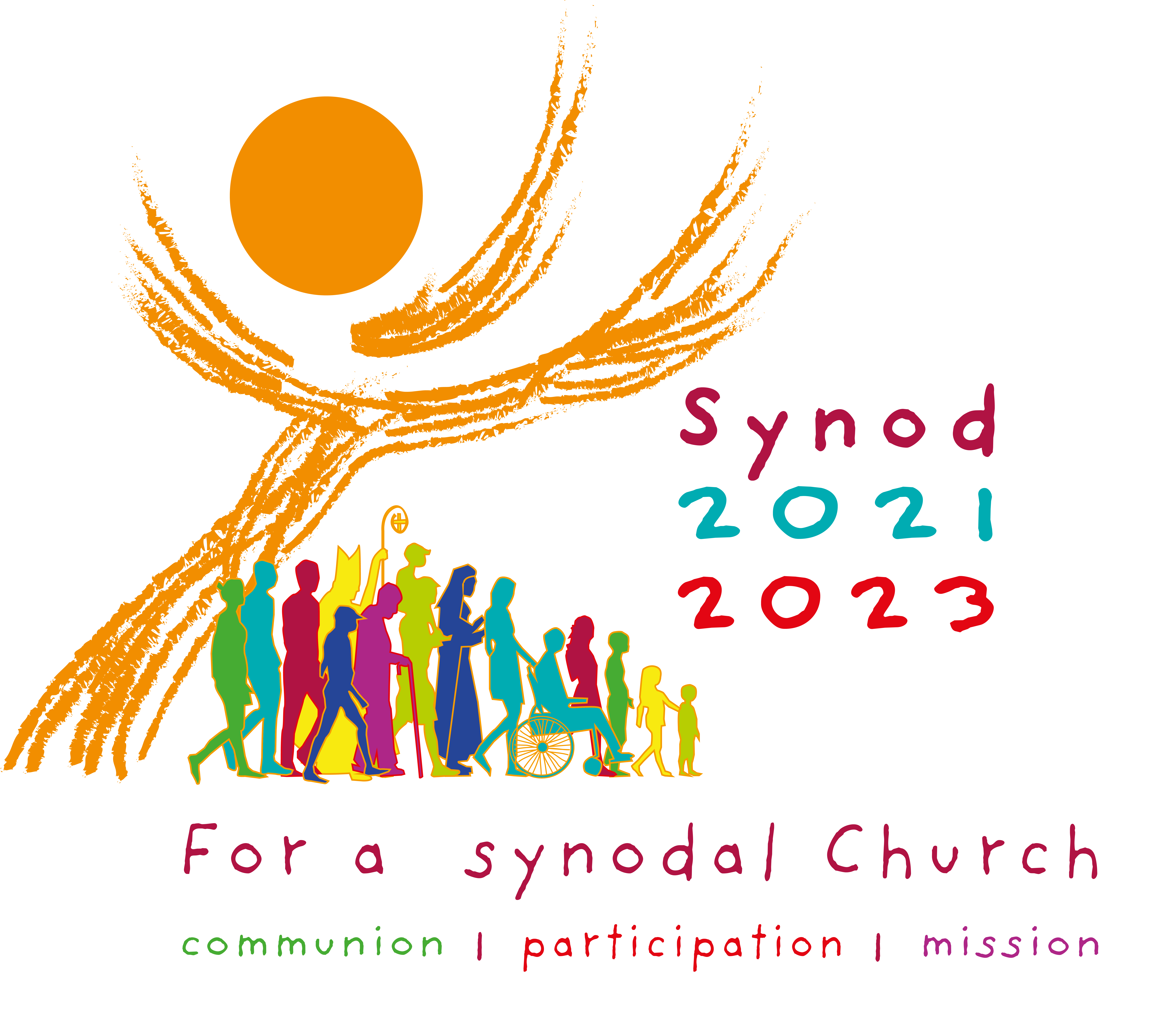 Journeying Together
Pope Francis has asked the whole Catholic Church worldwide to engage in a process of discernment under the guidance of the Holy Spirit. This process is called a synod. It involves everyone in the Church – clergy, religious, and lay Catholics, each participating according to the gifts and charisms of their vocation.
Please click the button below  for more information and to complete the 'Journeying Together questionnaire.