Society of St Vincent de Paul
Love
Whoever fails to love does not know God, because  God is Love.
(1 John 4:8)
MASS TIMES
SUPPORT US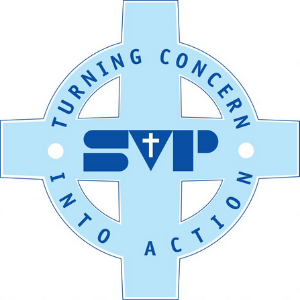 Society of Saint Vincent de Paul
The Society of St Vincent De Paul (SVP) was founded by Frederick Ozanam  a  20 year old young man in France in 1833. It was named after Vincent de Paul, a priest who did much good work visiting the sick, poor and needy in France in the 17th century. It is a lay society that helps all who are in need: the poor and homeless, the bereaved, the lonely, the housebound and those in residential homes, hospitals, prisons and secure units. Aid is given through visits and practical help as well as by financial or material donations.
You can read more about the SVP HERE
SVP Vision
The Vision, which is inspired by Christ's message
Are you interested in becoming a member, or do wish to refer someone in need, please contact The Conference President through the form below.
St Peter & the Guardian Angels Conference, Rotherhithe
The SVP Conference in our Parish was started in November 2014 and now meets once a month on a Friday at 7.00pm in the Newman Room in the church.
Any adult can join the group. However, due to the group's work with vulnerable people, potential members are required to have an interview and a DBS check. Members must also abide by some basic rules such as confidentiality.
The SVP runs the Foodbank in the Parish.  
Opening Times
11.00am to 1.00pm on Wednesdays
(Come in through the main entrance of the Church )
Donations to the Foodbank
Donations to the Foodbank are welcome.  Please leave your donation when you come for mass on
Saturday, from 5.30 pm to 6.30 pm
Sundays – anytime from 8.00 am to 12 noon
The following donations are welcome
| | |
| --- | --- |
| Tea | Pasta/Spaghetti |
| Coffee | Pasta Sauce |
| Breakfast Cereal | Tinned Fish |
| Rice | Tinned Meat |
| Biscuits | Baked Beans |
| Milk | Sweet Corn |
| Peanut Butter | Mashed Potato |
| Sugar | Microwave Rice |
| Honey | Spaghetti Hoops |
| Tinned Fruit | Soup |
| Long Life Juice | Hot dogs |
| Salt | Tinned Vegetables |
| Cooking Oil | Noodles |
| | |
| Toothpaste | Conditioner |
| Tooth Brush | Laundry Detergent |
| Toilet Paper | Washing Up Liquid |
| Shower Gels | Cleaning Liquids |
| Shampoo | |
| | |
Will you give the gift of kindness this Christmas?
For thousands of people all over England and Wales, a small act of kindness could be the perfect Christmas gift. And with a donation today, you can make sure they receive it.
Please click HERE for more information.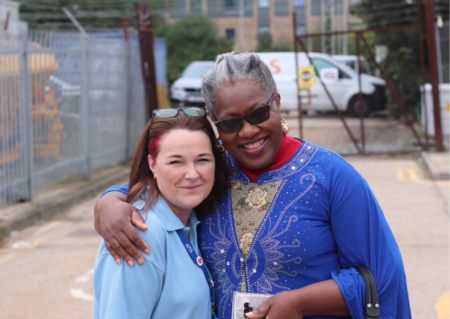 Visiting and Befriending
Volunteer members work in varied ways to give people a sense of belonging and dignity.  Loneliness is an increasing issue for
Aid to individuals and Families
As well as offering friendship and support, our members give practical help such as food, clothes, furniture, or financial help when this is needed.
Social Justice
Social justice is at the heart of our work and central to our mission. From tackling poverty, homelessness and isolation, to supporting refugees, asylum seekers and prisoners,
Twinnage (Overseas Aid)
Twinnage is the way in which SVP groups in developed countries provide support to SVP groups in developing countries. We are 'twinned' with a Conference called Little Flowers in Kerala, India.
With our Partner.........
Cooked Meals given with love
Thank You
All donations made to the work of our SVP Conference, no matter how small, makes a difference in our Community.
If you are interested in supporting our SVP Conference, here are some ways you can.
SVP Conference Bank Details
NatWest Bank
Account Name:
 A190117 SVP ST PETERS –  ROTHERHITHE
BUSINESS CURRENT ACCOUNT
Lambeth North Branch PO Box 7929
91 Westminster Bridge Road
London SEl 7HW
Sort Code:  60-60-04
Account Number:    46076093
Gift Aid
Do You Pay Income Tax? Then please join the Gift Aid Scheme!
If you have an income on which you pay U.K. Income tax, you can boost the donations you are currently making to your parish by 25% without giving any extra!
What is Gift Aid?
It is a scheme designed to encourage donors – who must be taxpayers – to sign a declaration form so that all their donations to the charity (Society of St Vincent de Paul) can be treated as gift aid donations. The donations can be of any amount, and there is no lower or upper limit and they do not have to be of a fixed amount or frequency. By signing the forms, donors can ensure that the parish gets a substantial refund from the Inland Revenue without having to increase their level of giving. In order for St Peter and the Guardian Angels SVP Conference to benefit from your donations: You must be a U.K. tax payer You must complete a Gift Aid Declaration (please ask the Conference Treasurer, Lisa Dalton ) Your contributions must be easily identified as coming from you (once you sign up for the Gift Aid Scheme, you will receive a box of envelopes – this helps identify the donation coming from you. All you have to do is place your donations inside the envelope!)
For every pound you give, your parish will get back an additional 25 pence from the Inland Revenue. This comes from the taxes you have already paid HMRC! So it is not an additional donation from you and it will not cost you extra. If you wish to join the scheme, please talk to SVP Conference Treasurer  Lisa Dalton   
email:  TreasurerA190117@svp.org.uk
Easy Fund Raising
COMING SOON
Did you know that whenever you buy anything online – from your weekly shop to your annual holiday – you could be raising a free donation for St Peter and the Guardian Angels Church? There are nearly 3,000 retailers including Amazon, John Lewis, Aviva, thetrainline and Sainsbury's, who will donate a percentage of the amount you spend to St Peter and the Guardian Angels Church to say thank you for shopping with them. It's really simple and doesn't cost you anything.
All you have to do is:
 Click here to go to Easy Fund Raising website
 Sign up for free
 Get shopping – your donations will be collected by easyfundraising and automatically sent to St Peter and the Guardian Angels Church.
It couldn't be easier! There are no catches or hidden charges and  Our Parish,  St Peter and the Guardian Angels Church will be really grateful for your donations. Thank you for your support.
Keep the Life Line Campaign
At the start of the Covid-19 crisis the Government gave an extra £20 a week to the standard allowance of Universal Credit and Working Tax Credit. This increase is due to end in April 2021 this year, but poverty is on the rise.
This is a lifeline for millions of families! Join us in campaigning to ensure millions of families do not lose their lifeline.